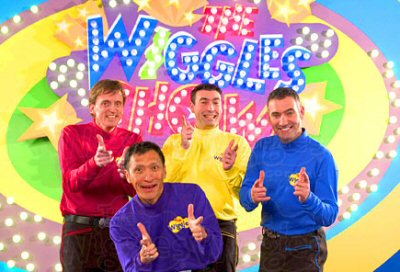 After missing the last time the Wiggles came to Kansas City, they are back!!! We bought tickets for Connor to see them in concert on Feb. 27th!!!!!!!!!! I am sooo excited to take him. He just loves anything Wiggles. He always watches them during his long treatments each day. He also was Anthony for Halloween, while little Mason was Murray. And we also had everything Wiggles for his 2nd birthday. It is so funny when I tell him it is time for his treatment and he says, "WIGGLES PLEASE" I will let you all know how it goes. I just can't wait to see Connor's face when he sees them singing on stage!
LOVE TO YOU ALL!!!
I am posting some Connor Wiggle pics from Halloween, Birthday and Treatments
OH MY GOSH!!! I GOT AN EMAIL TO TELL US THAT THE WIGGLES HAVE INVITED CONNOR TO A MEET AND GREET BEFORE THE SHOW!!! SO CONNOR WILL GET TO MEET THE GUYS HE LOVES TO WATCH EVERYDAY DURING HIS TREATMENTS!!! I CAN'T WAIT TO SEE HIS FACE WHEN HE SEES THEM! THEY ARE AMAZING FOR DOING THIS!!!!!!!!!!!!!!